C1 - SYSTEM - EXP
Tafficable roof under rolled asphalt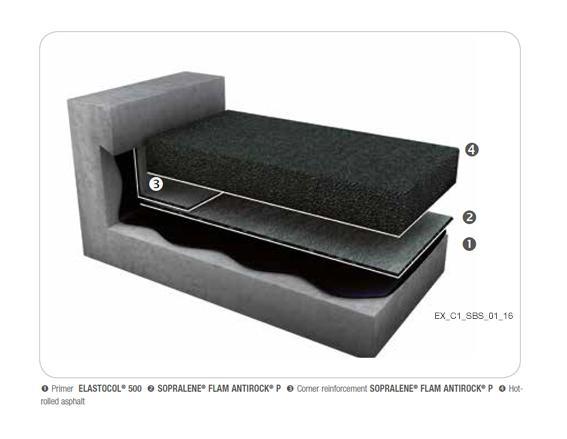 SOPREMA SYSTEM without thermal insulation
Installation Specifications - Bridge/road approvals
ANTIROCK SYSTEM
SINGLE LAYER SBS SYSTEM
Layer
Total thickness
4mm
Roll lenght
190m
Performance
I 4
Soprema advices:
Upstand variant: Alsan® FLASHING (European Technical Approval ETA-08/0114) will avoid the use of counter flashing protection on parapets. This no-flame system is easy to apply and saves application time.
A ≥ 2% slope will avoid water stagnation and the risk of foul odours.
With high SOPREMA adjustable support pads, upstands can be hidden to reduce the height to 10cm without mechanical protection.
The self-protected cap sheet provides further fire protection and easy maintenance (self-washing and non-adhered support pads).
SOPRAVAP® 3 IN 1 is an optimal solution combining three functions: primer, vapour barrier and insulation adhesive. Do not hesitate to contact our technical team for advice.