A3 - SYSTEM - EXP
Non-accessible self-protected roof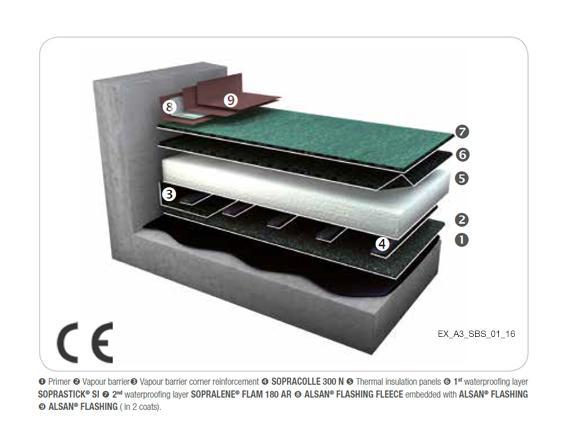 SOPREMA SYSTEM with thermal insulation
CE Marking Technical Approval
SOPRALENE® STICK
Bilayer SBS System
2nd layer
1st self-adhesive layer
Total thickness
5.5 mm
Performance
F 5 I 5 T 2
Soprema advices:
Upstand variant: Alsan® FLASHING (European Technical Approval ETA-08/0114) will avoid the use of counter flashing protection on parapets. This no-flame system is easy to apply and saves application time.
A ≥ 2% slope will avoid water stagnation, improve conditions of use and extend service life.
SOPRASTICK® SI is suitable for high wind areas except hurricane areas where SOPRASTICK® (fully self-adhesive) is used
on top of stabilized thermal insulation.
SOPRAVAP® 3 IN 1 is an optimal solution combining three functions: primer, vapour barrier and insulation adhesive. Do not hesitate to contact our technical team for advice.